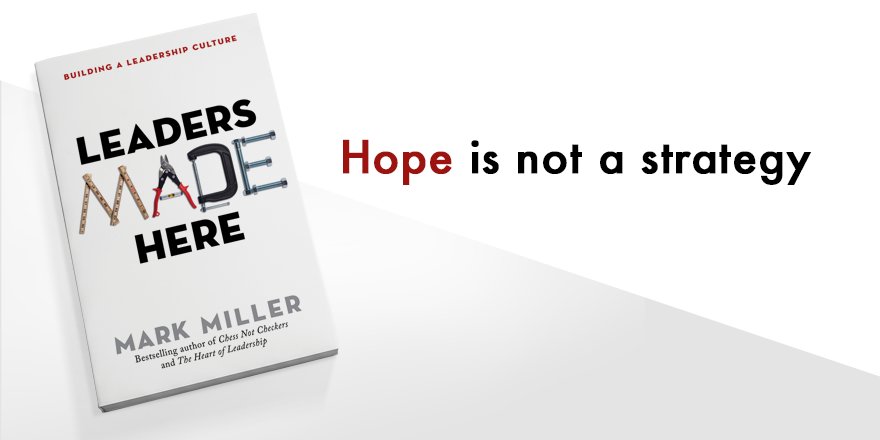 Today sees the release of Mark Miller's Leaders Made Here.  I was privileged to receive a preview copy.  Here is my review.
One of the biggest problems businesses face is leadership, more specifically, a leadership pipeline, a bench that is deep with future leaders.  This is usually due to a lack of focus on building that bench and/or a lack of understanding of how to build that bench.  This lack ends with businesses relying on a hope that leaders will come along when they are needed, but hope is never a good strategy, in fact, it's not a strategy at all.
Leaders Made Here tells the story of a business knee deep in this challenge and searching for a way to efficiently and effectively overcome it.  Through Miller's largely realistic tale, we learn the keys to creating a culture where leadership development is central.  He takes us on a journey where we learn five keys to a healthy leadership culture:
Forge a consensus on what leadership means.
Ensure everyone knows the organization's leadership point of view and has the necessary skills to lead.
Create opportunities for people to lead.
Track the progress of the effort.
Ensure all organizational leaders walk the talk and lead by example.
With these keys, Miller gives us a simple, repeatable approach to creating leaders throughout any organization, department, or team.  The benefits are many here, competitive advantage, long-term sustainability, employee longevity and engagement, and overall business success.
I recommend this book to anyone interested in developing leaders throughout their organization.  Miller's storytelling ability keeps this short book interesting and engaging and allows for teaching good lessons in culture development.
Some favorite quotes…
"Culture is not what you want it to be – it is what people do on a regular basis.'
"…work to give emerging leaders ample opportunities to lead – as early as possible in their career."
"Nothing improves without measurement, and leadership is no exception."
"People always watch the leader. They are looking for at least two things, first and foremost: clues as to what's really important, and they're also trying to determine if they can trust the leader."
"…before I begin any journey, I have always found it helpful to confirm my starting point.  It tends to clarify one's options.  Without clarity on where you are, you could be making great time – but in the wrong direction."
"Too many leaders call plays they cannot run.  Effective and doable beats flashy and improbable every time."